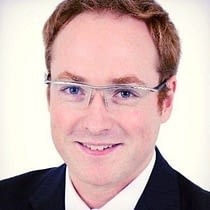 Allow me to introduce myself. My name is Sean Johnston and I am the General Manager: Property Portfolio Planning. I am a Certified Financial Planner® and have several qualifications, in fields such as real estate, business administration, marketing management, financial planning and wealth management. I have lectured and also written articles for several publications, mostly topics on financial planning.
Since 2008 I have worked in several positions including data research analyst, financial planner, National Administration Manager, Head of Administration and client services, Property Investment Strategist and now General Manager, in Johannesburg, Cape Town and Pretoria. In this time, I have gained invaluable experience and understanding of the investment environment and the mechanics of investment vehicles.
I joined the IGrow Group in August 2016, due to the benefits of property gearing and leveraging from banks to build wealth and sustainable passive income throughout an investor's life and beyond, if structured correctly.
Over the course of the IGrow Group's 11 odd years, the CEO and founder, Jacques Fouché recognised a need to provide guidance to property investors. Many already have existing property and investment portfolios but have no real direction in planning toward retirement, nor a strategic way forward to acquire the required number of properties to derive an income from them when retired.
The Wealth Plan was developed using my many years of experience and knowledge in financial planning and investments in conjunction with other experts within the IGrow Group. The plan, I believe, is truly unique and changes the way investors look at retirement planning.
Why was the IGrow Wealth Plan created?
Traditional Wealth Plans, or the more commonly used term a 'Financial Needs Analysis' or FNA, looks at a client's current position in respect of death, disability, dread disease and retirement planning, with the objective to identify potential shortfalls.
The FNA is built around what products are governed and regulated by the Financial Services Board (FSB). This is where the problem lies as real estate falls under the governance of the Estate Agency Affairs Board (EAAB). Representatives registered with the FSB are not authorised to provide advice on real estate unless they are also registered with the EAAB as an estate agent.
Property performance and rental income are not taken into consideration, which means the recommendations given by financial planners do not take into account the impact of rental income at retirement. If a member of a pension fund retires, for example, and invests in a living annuity, they will be entitled an annual drawdown between 2.5% – 17.5%. If the member increases the annual drown at a greater rate than the invested funds can earn, the funds or capital will start to deplete. This is the case with many retirees, who either outlive their capital or are forced to reduce their pensions to prolong the remaining capital. When markets are underperforming, the pensions are strained as the remaining capital is reducing at a quicker rate than expected. This is an ongoing problem in South Africa.
Below is a diagram of the typical retirement planning process, where an investor has to save up enough capital during the pre-retirement period in order to live off this capital during retirement. In most instances, the income in retirement is escalated each year, which means the capital is at risk of running out before they pass away.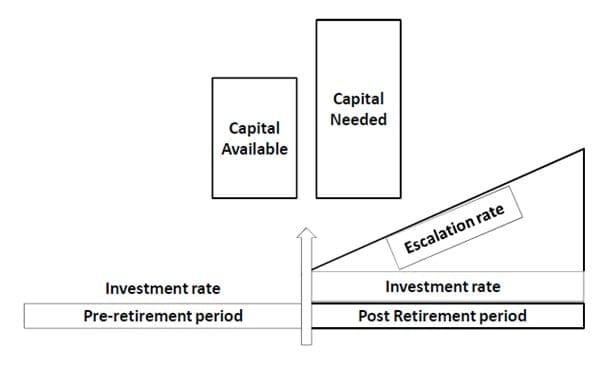 Many life companies use the expertise of Actuaries to design investment products that provide a "boost" or extra allocation of funds at retirement. In my opinion, the retirement model of saving capital throughout your working career, with the intention of living off these funds for a certain period of time is an outdated way of thinking. The retirement statistics in South Africa tell the story of many South Africans having to work longer, live on less retirement income or rely on family to support them.
In reality, most South Africans do not save enough of their income toward retirement, and those who belong to pension and provident funds often withdrawal the funds if they resign from employment. They do not truly understand the financial implications this withdrawal has on their retirement planning.
For this reason, I believe it is important to look at rental properties as an additional investment vehicle to provide income at retirement, as a supplement to pensions and other investments.
If you acquire investment property and have a Wealth Plan that can track future rental income cash flows and compare it to the future income required at retirement, then you are planning more effectively as you are reviewing cash flows and future fund values. You have a more holistic overview and strategic plan to retire. The ultimate objective is to retire with the same standard of living.
I believe this is the future of retirement planning – exploring all avenues to provide income rather than being solely reliant on one investment vehicle, such as an annuity.
Rental income does not have the same risk of capital depletion as it is continuously received if a tenant is in the property. If the property is located in a popular area, such as being close to schools, shopping malls, hospitals and universities, then the rental demand for accommodation is greater.
In addition to receiving rental income, the property itself appreciates in value, which is the same as a living annuity increasing in fund value despite an annuity income being drawn.
Below is a simple graph that shows that rental income increases each year. It allows investors to accurately track its trajectory each year and review the property portfolio to ensure that the income aligns with the desired income during retirement. This way, investors are no longer planning for the income to last a specific term but planning to have sufficient cash flow that will ideally last forever, if structured correctly.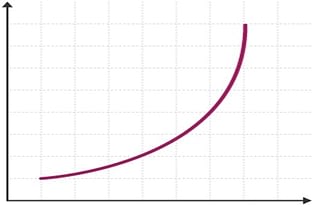 My objective is to assist investors to create wealth by leveraging the banks, using as little of their own capital to finance a property portfolio as possible, whilst also investing in traditional investment vehicles. If an investor can manage their cash flow, equity in the properties and rental income projections, they can retire at a younger age than expected. This is because they are not growing a fund value over a period of time but rather tracking a cash flow trajectory.
Every investor should treat retirement as a project and look at how much capital needs to be invested and the various investment opportunities to achieve the best possible returns on the opportunity cost.
I believe every person who is starting their retirement planning journey can benefit from a roadmap that gives them a present-day overview and action plan to start investing more strategically.
For more information on The IGrow Wealth Plan, please feel to contact me by emailing: enquiries@igrow.co.za