Investors are increasingly investing in beach apartments in Muizenberg, Cape Town, and, in ten years of operating on the beachfront, prices have more than doubled and have continued to rise year-on-year, irrespective of the economic or political climate.
This two bedroom, two bathroom apartment in Muizenberg, Cape Town, offers spectacular sea and mountain views and is close to amenities. It is on the market for R3.34 million
This is according to Paddy Mow, a Seeff agent who says investors are increasingly seeing property on the Muizenberg beachfront as a good investment given the high demand for holiday accommodation. Visitors and holidaymakers from all over the world come for the surfing, but get so much more.
Surfer's Corner is really the heart of the village and everybody knows where it is. The promenade is now lined with coffee shops and eateries, but you are also next to the famous Kalk Bay strip where you will find a host of attractions. Muizenberg is also a great holiday base from which to explore Cape Point, the rest of the Peninsula and Winelands.
This renovated two-bedroom, two-bathroom apartment in Muizenberg, Cape Town, is within walking distance of many amenities. It is selling for R2.25 million
For investors, the equation is simple – today's price is tomorrow's bargain, says Mow, citing a few examples. In 2009, the entry-level price for a small one bedroom apartment of 52sqm was between R630 000 to R695 000. Currently, if fully equipped for short letting, sellers are achieving R1.5 million for a decorated interior and about R1.4 million if unfurnished, equating to around 126% more on average.
A slightly bigger one bedroom unit of 61sqm with a balcony was selling for R730 000 to R799 000. Today, she says, a fully-equipped unit will sell for R1.65 million to R1.7 million – about 120% more.
Two bedroom units are also an excellent investment option, says Mow. The entry-level price has moved from R950 000 to R1.1 million for a unit that doesn't face the ocean to R1.75 million to R1.82 million for a basic apartment and R1.95 million for a fully-equipped and furnished unit – both examples of recent sales by the agent.
This spacious three bedroom, two bathroom apartment in Muizenberg, Cape Town, offers mountain views and access to communal braai areas and pools. It is on the market for R1.25 million
"Sea-facing apartments with two bedrooms are now selling for R3.1 million, and if fully equipped for short-term letting purposes for R3.35 million to R3.45 million. That said, investors are well informed, and we have seen resistance to the R3.7 million price mark, but sellers are still able to achieve good prices," she says.
"Also popular are three bedroom duplex penthouses, originally priced at R3.1 million to R3.4 million, so much so that the owners are resistant to selling these, having rejected a R4.5 million cash offer presented by the agent."
This two bedroom, two bathroom apartment in Muizenberg, Cape Town, is selling for R2.85 million
Another benefit of the area is that there are two popular short let services located on the beachfront, with most investors using either Whale Watchers or Surfer's Corner. Both offer a hands-on service. Property owners who have gone the Airbnb route have to arrange their own cleaning service, laundry, inventory check, client meet and greets, key handovers and so on, so most use the letting services on offer.
Investors can expect short let returns of around R1 030 per day to R1 880 per day for a one bedroom apartment, the upper end being the peak rate. A unit not facing the ocean with two bedrooms can command R1 730 and R2 520 during the peak season, and for a sea-facing unit, around R2 200 per day to R3 220 per day. A three bedroom penthouse can achieve R3 150 to R4 620.
Mow says the investment value of the area is well illustrated by the above, and adds that the area continues to evolve and develop to meet changing lifestyles and the demands of an evolving property market.
View IGrow's latest development, Ocean Terraces – fantastic beachfront apartments in Muizenberg.
https://igrow.co.za/properties/ocean-terraces-muizenberg/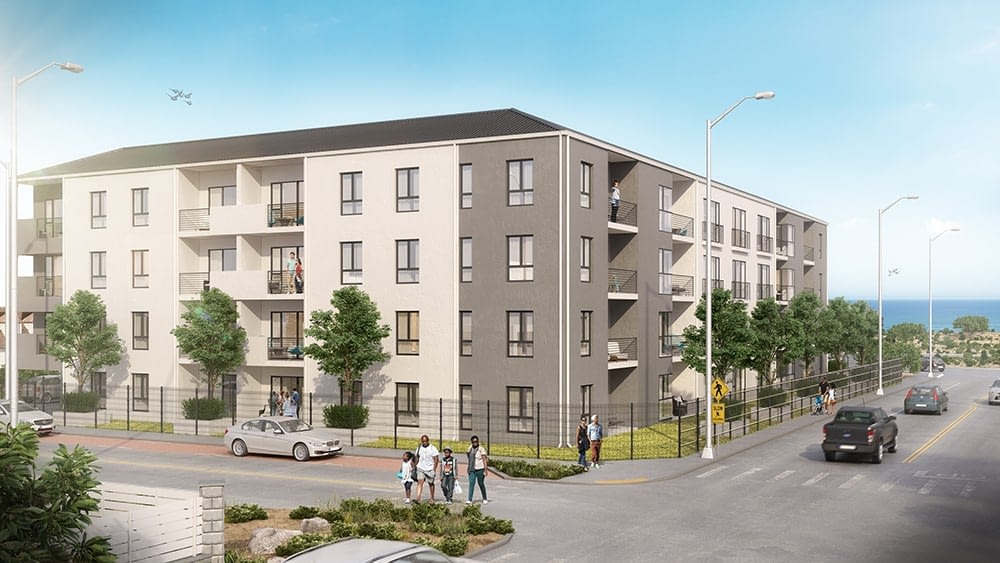 Source:
https://www.property24.com/articles/savvy-investors-snapping-up-apartments-in-cape-towns-muizenberg/28603?SourceFeed=News24