---
The 7 key fundamentals to building your property empire
Category: Podcasts
The seven key fundamentals to building your property empire 
Hi, I am Jacques Fouché, CEO and founder of the IGrow Group of Companies, South Africa's number one real estate investors group. We teach real estate investors, business owners and entrepreneurs how to leverage other people's money, time, effort and experience to build a multi-million rand property portfolio, so they can retire financially free and leave a legacy. 
Today I'd like to talk to you about the seven fundamental keys to building your property empire.  
Number one – plan ahead 
Create a plan, a blueprint, your personal roadmap. This will help you decide how you are going to start your real estate investment property business. 
The biggest reason most real estate investors fail is because they don't have a plan. We all know that in life and business when you fail to plan you effectively plan to fail. 
When you start to see your property investment portfolio as a real business you will start to move forward fast. 
And when you truly own your role as the CEO of your property portfolio, the CEO of your real estate investment business and you see this business as your retirement, your pension plan and your ticket to financial freedom, and look at this in terms of the impact you make on society and the economy – these are the reasons that will drive you to make your real estate investment business a massive success.  
There are several important components to a successful real estate investment business you should focus on:   
Creating corporate structures.

 

Assembling a team of experts around you.

 

Using investment systems like an investment software program to evaluate and analyse your deals.

 

Acquiring investment skills, including how to leverage other people's money, time, effort and experience.

 
These are fundamental to running a successful buy-to-let real estate business.   
Number two – what, where and when 
It is important to get the following right:  
what to buy – selecting the right type of property 

 

where to buy – selecting  the right location 

 

when to buy – selecting the right stage of the property cycle

 
If you master these three points you will be able to outperform the market averages, enabling your portfolio to provide you above-average rental income and capital growth that is sustainable and consistent. 
Number three – devise your financing strategy 
Use other people's money and leverage the banks to fund your property portfolio. This helps you to maximise your asset base and grow your multi-million rand property portfolio smartly, one property at a time. The reality is: banks are willing to fund your property if you know how to ask. With a little bit of your own money you can create a massive multi-million rand asset base. 
Number four – comprehensive rental management 
Get a great rental management company to take over the day-to-day admin of your rental portfolio, namely things like your tenants, maintenance and monthly payments. Get your rental managers to run your business. This will free up time for you to focus on the strategy and expansion of your buy-to-let portfolio. 
If you really want to grow your asset base, work on your business, not in it!  
Number five – strategic refinancing  
Strategically apply conservative refinancing strategies to expand your portfolio rapidly, and do it tax free.  
By assessing the numbers in your portfolio you can unlock the equity and roll it over, tax free, to pay for the shortfalls, deposits, and costs of your next investment property, thereby building your portfolio. 
One property can literally be the start of a huge portfolio, if you are willing to do it strategically. 
If you apply refinancing correctly you will be able to grow your portfolio exponentially within a few years. You will own a multi-million rand property pension that others can only dream about. 
Number six – use SARS as your partner 
The Receiver of Revenue has created phenomenal tax incentives, rebates, concessions and tax allowances to benefit us – the buy-to-let investors. It makes huge economic sense to make SARS an active partner and role-player in your property portfolio and business.  
Using the tax incentives of Section 13sex of the income tax act will allow you to deduct between 55% and 100% of the purchase prices of properties as a tax deduction against your personal income tax. This will reduce your taxes substantially.  
This is how thousands of property investors, including me, are getting SARS to pay for our property investment expenses, legally and strategically.   
Number seven – assemble a great team.  
If you want to become great at real estate you will need to surround yourself with an expert team. No lone ranger has ever built an empire by himself. Assemble a top team around you and get them engaged in the vision of what you want to achieve.  
If you want to win the game of money and investing, you need the best and smartest people in your team. And if you are the smartest, in your team, then you've got the wrong team. 
Go out there invest strategically invest intelligently, become financially free and leave your legacy.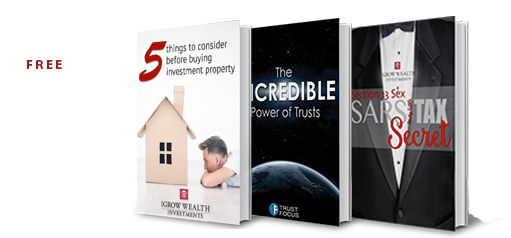 Discover how to build your wealth with property investment Get free training videos & resources on the secrets of property investment in South Africa. Fill out the form below to gain instant access to our training resources.
---
Request a Consultation
Enter your details and request a Free Property Investment Consultation with a IGrow Stratagist