You might not have hectares of open land, but you do have a few metres of outdoor space and a sunny spot indoors, which is all you need to grow your groceries with the best of them.
"Vegetable gardens are becoming a household standard these days. Even in sectional title units, it is not uncommon to find vertical gardens hanging outside and planters sitting on the window ledges," says Regional Director and CEO of RE/MAX of Southern Africa, Adrian Goslett.
Check the sectional title rules first
While possible to grow a vegetable garden in a home without a spacious backyard, Goslett warns those living within sectional titles to check the conduct rules issued by the complex's Home Owners Association or Body Corporate. "These rules will outline things such as acceptable and unacceptable behaviour within the complex, as well as the general aesthetics of the building and what sorts of renovations are allowed. In certain complexes, you might find that homeowners and tenants are prohibited from placing things in front of windows, on window ledges, or hanging things on exterior walls without first gaining written consent from the complex. If you do not comply with these rules, you can be held liable to fines," he explains.
Choose the right container for your veggies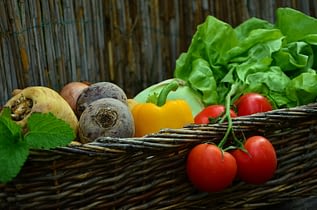 If you do want to create your own vegetable garden, but don't have any open soil, there are various ways of working around this. The first is to purchase pots or create wooden planters that you can put on your balcony, outdoor patio, or near a window inside your apartment. "If you are going to keep your planters indoors, just be sure to clean underneath them regularly to ensure that they do not leave stains on the floor, as this will come out of your deposit if you are renting the space," Goslett cautions.
Consider a vertical garden
Vertical gardens are another way around the issue. These work best if installed outdoors on a patio space or balcony but can also work indoors provided that your apartment gets lots of light and has good ventilation. "Tenants would be better off to avoid this option though. Installing a vertical garden indoors will require permission from the landlord as it will require some construction. Instead, tenants can purchase hanging planters which they can hang from their curtain rods," Goslett suggests.
Of course, if you wanted to live a life of subsistence farming and grow all your own fruit, vegetables and herbs from home, then these suggestions will fall short of a solution for you. "There is a limit to how much one can do in a small living space within a sectional title. If you are passionate about growing a vegetable garden, perhaps you should consider relocating further outside of your CBD where plots are generally larger and more affordable. What you end up saving on your grocery bill once your garden is ready can then be rerouted into the higher fuel costs of having extended your commute to work," Goslett poses as a final solution.
Source: https://www.privateproperty.co.za/advice/lifestyle/articles/how-to-grow-veggies-in-your-apartment/6604?utm_source=newsletter-general&utm_medium=email