The benefits of creating a trust and the role of an independent trustee
At its core, a trust is an arrangement by law whereby property and assets, legally owned by one person, are administered for the benefit of another.
The three parties usually involved in a trust are:
Settlor (donor or founder) who donates the property for another's benefit;
Trustees (like the directors of a company) in whose hands the control and administration of the property is entrusted; and
Beneficiaries – the receivers of the income and capital generated by the trust.
Trusts are probably best known for their effectiveness in estate planning and continuity strategies. That said, setting up a trust should only be implemented after careful consideration.

The difference between testamentary and inter vivos trusts
A testamentary trust is established when a person (the founder) makes provision for establishing a trust in their will. The trust does not come into existence until the founder dies.
An inter vivos trust is set up between the living. In other words, property is transferred before death to the trust by its founder and managed by the trustees for the benefit of another.
Creating an inter vivos trust has enormous benefits, particularly when it comes to the death of the settlor. According to the Estate Duty Act, upon a person's death a duty is levied against their estate, known as estate duty. The nett value of the estate is determined by deducting all liabilities from the assets of your estate, both real and deemed. If you create a testamentary trust, upon death the assets in your name and your will are only transferred to the trust posthumously after this duty is payable. However, in the case of an inter vivos trust the assets are owned by the trust, which does not die and therefore no estate duty is payable on those assets
These are some of the main benefits of setting up an inter vivos trust:
Flexibility: A discretionary trust is extremely flexible, and can be administered to take into account changes over time in family, financial and legislative circumstances. This means the trustees can manage the trust's assets in the best interest of the beneficiaries at any particular time. The flexible nature of this set up caters for such uncertainties as divorce, insolvency, increase in family size or fortunes, and of course annual changes to tax legislation.
Tax planning: If created and operated with care and with appropriate advice from tax experts, a trust can be a useful tax-planning tool. Assets owned by the trust will not be subject to estate duty, capital gains and executor's fees on the death of the settlor. A trust can be administered so as to mitigate:
estate duty,
income tax,
capital gains tax,
donations tax, and
transfer duty for both the settlor and the beneficiaries (depending on the relationship between the settlor and the beneficiaries).
Estate and succession planning: Assets in your personal estate are frozen during the estate administration process, whereas trust assets are accessible at all times. Therefore, trusts provide for smooth and flexible succession arrangements as the assets owned by the trust will not be subject to cumbersome and often lengthy legal procedures after your death.
Family asset management: A trust can provide a centralised asset management and controlled distributions for beneficiaries who are not able to manage assets themselves. This may be due to minority, disability or prodigality. A trust can also provide for joint ownership of assets that cannot be easily distributed among several beneficiaries, like holiday homes. Should the estate owner become mentally debilitated, a trust negates the need for the appointment of a curator bonis – a person appointed by a court to manage finances – to take care of the founder's affairs.
Asset protection: A trust can help protect a family's assets from potential creditors and the ownership of an asset by the trust also means that it will not fall into your beneficiaries' personal estates on your death. This means the asset will be protected from creditors of your beneficiaries.
Many IGrow investors have seen the benefits of buying the right type of real estate in a correctly structured property investment trust. It can even prove more lucrative than their main line business. The key to success is planning and preparing.
The role of the independent trustee
The independent trustee is the unbiased, unrelated third party who has no financial interest in the trust but brings expertise and experience to the board of trustees. The active role your independent trustee plays in helping the trustees to achieve the trust's objectives, namely wealth protection and wealth creation, is key.
With Trustfocus as your independent trustee, investors benefit from:
access to our exclusive distressed and below market value properties;
annual Independent trustee meetings with your representative at Trustfocus– with follow up meetings and consultations as required; and
sound legal advice and guidance that will ensure that your wealth protection and wealth creation structures are managed properly.
Please do not hesitate to contact your nearest Trustfocus (Pty) Ltd office to arrange a free consultation:
CAPE TOWN – 021 979 2501 / admin@trustfocus.co.za
PRETORIA – 012 943 0201 / heila@igrow.co.za
This article is a general information sheet and should not be used or relied on as legal or other professional advice. No liability can be accepted for any errors or omissions nor for any loss or damage arising from reliance upon any information herein. Always contact your legal adviser for specific and detailed advice. Errors and omissions excepted (E&OE)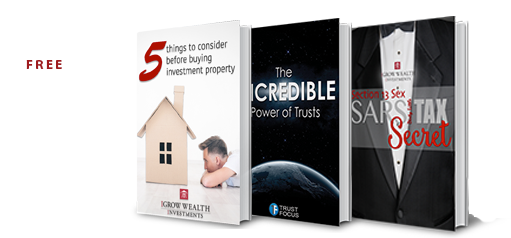 Discover how to build your wealth with property investment Get free training videos & resources on the secrets of property investment in South Africa. Fill out the form below to gain instant access to our training resources.