Residential Property Still a Good Investment in 2016
During 2008/2009 when the worldwide recession impacted property markets across the globe, both the residential and commercial property markets in South Africa experienced a decline at the same time.
Renecle says those looking to purchase property during 2016 can't go wrong, provided they do their research about the micro market in which they want to buy and make well-researched and informed investment decisions.
This is according to Chris Renecle, MD of Renprop, who says this was unusual to see, as usually the residential and commercial markets are counter-cyclical.
"The interesting fact is that even though South Africa was not as affected as the rest of the world by the property market crash, we have not seen the same level of recovery in our markets as Europe and the US has," he says.
"We are now expecting to see a return to 'normal' in terms of the counter cyclicality of the residential and office space markets. The residential property market is expected to remain relatively robust, while we anticipate the office market will continue to experience lacklustre trading conditions in the year ahead."
Renecle says what has been evident over the past year is that residential property in Johannesburg's northern suburbs continues to be a secure investment option.
"While South Africa's financial markets, currency and resources have been volatile for most of the year, residential property in most areas throughout the country has remained on an even keel, and even though growth has been mediocre overall, it has still been a solidly performing asset class."
He says South Africa has not experienced negative equity on residential property due to inflation.
"With rising inflation, it's doubtful that residential property will see negative equity in the near future either."
That said, he says growth prospects for residential property in 2016 are expected to remain muted in line with global economic trends.
Despite much speculation to the contrary, Renecle doesn't believe that there is a residential property bubble on the horizon for South Africa.
"Demand in some areas continues to outstrip supply, added to which the level of residential property development has been controlled and fairly subdued due to the financial institutions' caution around financing developers, based on their past bad experiences and fallout from the 2008 international recession."
Renecle says even though a constrained economy and tough financial climate has affected many consumers' ability to qualify for home loan finance, the rental market has picked up the slack during 2015 and will continue to remain strong throughout 2016.
"There has been more development of residential apartment blocks purely for rental accommodation in the northern suburbs of Johannesburg, with a noticeable move from institutional investors into this space. We have also seen a number of large private investors invest into schemes that have been developed purely for rental purposes."
Renecle says there is sufficient demand in and around Johannesburg's main business nodes and CBDs for continued development of rental accommodation to take place.
The interest rates, which have an impact on consumer spending and home loan finance affordability, will remain in an upward cycle during 2016, he says.
"The higher rates, no matter how small the increases, will translate into less movement in the residential property market, coupled with lower growth. However, buyers who are relying on finance should bear in mind that since late 2010, we have had one of the lowest interest rates that we have seen since 1979."
While overall the property market outlook may not seem too exciting, there are area trends that will be worth taking note of in the year ahead as there were during 2015.
"Prime examples this year have been the boom in development in the Bryanston, Rivonia/Sandton and Rosebank precincts. Many investors in these developments have benefited from high growth rates that are well above the average over a short period of time."
Renecle says those looking to purchase property during 2016 can't go wrong, provided they do their research about the micro market in which they want to buy and make well-researched and informed investment decisions.
http://www.property24.com/articles/residential-property-still-a-good-investment-in-2016/23135 – Property 24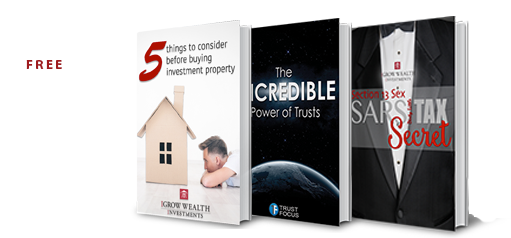 Discover how to build your wealth with property investment Get free training videos & resources on the secrets of property investment in South Africa. Fill out the form below to gain instant access to our training resources.