Pros and cons of buying property off-plan
With demand for property far exceeding the current supply, buying a home off-plan has become increasingly more popular in today's market.
Goslett says one of the predominant differences between buying an existing property and buying off-plan is the different market elements that affect the pricing.
This is according to Adrian Goslett, Regional Director and CEO of RE/MAX of Southern Africa, who says apart from the fact that supply is currently an issue, off-plan buying has also become popular due to these properties being more affordably priced compared to other properties offering similar features within the same area.
This provides buyers with an attractive opportunity to maximise the return on their investment right from the start, he says.
"Another reason why off-plan development sales are doing well is because the initial deposit required to secure the deal is often comparatively lower and the delayed occupation time, which can be around six months to a year, gives buyers the extra time to save for the purchase."
One of the predominant differences between buying an existing property and buying off-plan is the different market elements that affect the pricing.
While the prices of existing properties are largely driven by the supply and demand in the market, off-plan home prices are influenced by the cost of the building, materials used and labour.
Goslett says another advantage to buying off-plan is that while the buyer is still liable for conveyancing costs, they do not have to make provision for transfer fees over and above the purchase price, which banks do not finance. In a transaction involving a property in the development stage, the developer will charge VAT on the transaction instead of the buyer paying transfer duty.
"While Finance Minister Nhlanhla Nene said in his 2015 Budget speech that property below R750 000 would not incur any transfer duties, the transfer duty of property priced above R2.25 million will be increased. Buyers purchasing from a developer will not have to worry about transfer costs at all, regardless of the purchase price."
He says a disadvantage to buying off-plan is not knowing what the final home will actually look like.
"What the buyer hopes for and what they get may be two different things entirely. While the developer will be able to provide an artist's impression of the development or will perhaps have one of two properties on show, buying a home that has not been built as yet takes a certain amount of faith."
Goslett says buyers run the risk of dealing with developers who have only recently been established or those with shady intentions.
Before proceeding with any off-plan purchase, he says a buyer should do their research and check the developer's credentials and records of any projects. If the developer has been involved in other successful developments, the chances are good that their latest project will be as equally successful.
Buyers are entitled to request that the developer provide them with evidence of membership to associations such as Master Builders South Africa or the National Home Builders Registration Council.
He says while there is the advantage of being the first owner of a newly built property, buyers must bear in mind that they will possibly have to deal with the construction of other homes surrounding theirs, especially if they are one of the first buyers in the development. The buyer may also have to establish a garden from the start, which could be expensive and unsightly in the beginning stages.
"A new home may also have a few snags that may need seeing to before the home is perfect. For most, these issues are a small price to pay for the chance of owning a newly built home," says Goslett.
http://www.property24.com/articles/pros-and-cons-of-buying-property-off-plan/21597 – Property 24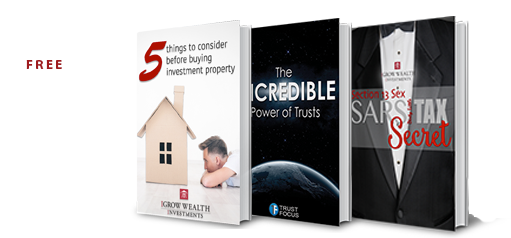 Discover how to build your wealth with property investment Get free training videos & resources on the secrets of property investment in South Africa. Fill out the form below to gain instant access to our training resources.