Property in trusts: trustee changes
There are still people who prefer to buy property in a trust, where the property has become part of the overall financial planning of the family or where there is a large estate.
In some cases it can be stipulated in trusts that there must be a minimum number of trustees, so the remaining trustees must go through the necessary steps to appoint a new person as soon as possible.
The procedures are that the trustees must apply to the Master of the High Court, and be registered with the Master's Office. The will or trust deed will be lodged at the Master's Office with documentation and if the Master is satisfied that the requirements have been met, he will name the trustees as such.
"But what happens after a time, one of these trustees dies or resigns?"
Often if one of the trustees has died or one of them resigns, the others forget to go through the necessary procedures to get them removed.
"Many property owners often forget that their properties are registered in a trust because they did this twenty or more years ago, when they first bought their home. They possibly did this at the time when it was fashionable to buy properties in this way because of the tax benefits," says Steward.
If a trustee resigns or dies, the Letters of Authority must be returned to the Master to have that person's name deleted. If it is a case of resignation, the letter of resignation and a resolution from the remaining trustees accepting his resignation given to the Master. In the case of a death of a trustee, the death certificate must be submitted.
Steward says in some cases it can be stipulated in some trusts that there must be a minimum number of trustees, so the remaining trustees must go through the necessary steps to appoint a new person as soon as possible, if they are bound by this limitation because the trust cannot transact until the correct number is restored.
It should also be remembered that if a property is sold or being purchased by that trust, a resolution to the effect has been passed giving one trustee the authority to act on their behalf or all the trustees will have to sign the documentation pertaining to the property transaction, she says.
All the trustees, regardless of which way they choose to transact, must be FICA'd.
Steward says what many people in South Africa did was form an inter vivos trust, which is set up during the life span of the founder member, but to avoid the possibility of all of this person's assets being classed as the founder's own by SARS, there should be at least two other trustees named, and an outside member (a person not in the family).
The founding documents will stipulate what processes have to be followed by that trust to formalise decisions made by that entity, and the listed procedure must be followed to the letter or they will not be acting legally.
Most trust deeds will cover the following:
– Whether a majority of the trustees must agree on the issue or whether a unanimous decision is needed;
– If all of the trustees have to be present at a meeting where a decision is being made or whether a lesser number will do;
– Whether it is possible for a valid decision to be formalised without a meeting of the trustees taking place and what procedure must be followed in this case, e.g. round robin letter;
– Whether any one trustee has a casting vote; and
– Whether any majority decision of the trustees requires, in addition, the assenting vote of a specific trustee to be valid and binding.
It should also be remembered that in order to buy a property in a trust, that trust must already be formed before the purchase can take place.
"We do come across cases where people have not formed their trust or company as yet, but they want to put the property in its name, but this is not possible.
"When a property transaction is taking place involving a trust, buyers and sellers will be asked by their Property Investment Consultant for the documentation, i.e. resolution from the trust and FICA documents, to support the purchase or sale, and so should have this ready in order to avoid delays. In addition, they will be required to furnish a copy of the trust, cc, or company deed to the attorney/estate agent," she says.
Find more info regarding our Trust division and how we can assist with all your Trust needs – http://igrow.co.za/services/trusts/
Source: http://www.property24.com/articles/property-in-trusts-trustee-changes/20559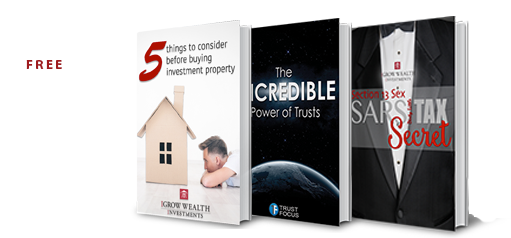 Discover how to build your wealth with property investment Get free training videos & resources on the secrets of property investment in South Africa. Fill out the form below to gain instant access to our training resources.