6 Practical Tips if You're planning a Property Investment
Handled correctly, an investment property is a great asset that appreciates in value, can be rented out to earn an income and it's a great banker in your capital growth and retirement strategy.
There are two primary reasons why people invest in property: 
Buy to rent – once you have purchased the property, it is rented out to produce a rental income. Essentially you are looking for a trusty tenant to pay as much of the bond costs as possible that you have in place.
Buy to re-sell – often referred to as 'flipping', if you have an eye for fixer uppers and a passion for renovation,
many people find good money in buying properties to fix up and resell for a higher price than the initial price plus cost of renovation.
Both of these are sound investment options if you know what you are doing. Investing in property is a long term strategy, so you will need to be sure that you have the cash flow and funds to maintain your repayments and weather any financial stress down the line. To continue reading click here…
Source: http://www.reimag.co.za/2016/08/17/6-practical-tips-youre-planning-property-investment/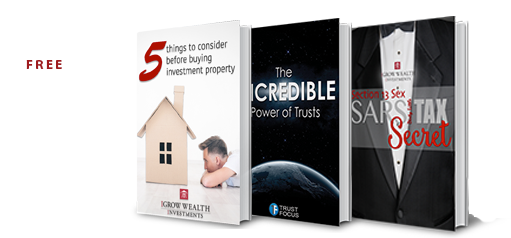 Discover how to build your wealth with property investment Get free training videos & resources on the secrets of property investment in South Africa. Fill out the form below to gain instant access to our training resources.