2014 Property market has something to cheer about
Cape Town – Coming off five years of low growth on the back of tight economic conditions, 2014 has seen the property market emerge from one of the toughest down-cycles, according to Seeff chair Samuel Seeff.
This turnaround is indeed something to cheer about, in his view.
"The market is on solid ground with good balance between demand and supply, tilting up somewhat on the demand side in favour of sellers on the back of almost country-wide stock shortages," said Seeff.
"Heading towards 2015, sellers can expect the buoyancy to continue with buyers aplenty and good prices, despite the subdued economic outlook. While somewhat contrary to expectations, it is not wholly unexpected."
It underscores the historic resilience of the market and that it was always just a matter of time before buyers would be back as we have seen since early last year and especially into this year.
Households have been reducing their debts, saving for deposits and benefiting from inflation beating salary increases. At the same time, the middle-class has grown in numbers and wealth.
"Financial stress related selling has improved according to FNB's latest Property Barometer and the middle segment of the market is upgrading. All of this has been a favourable boost for the market," said Seeff.
"The renewed appetite on the part of the banks to increase their mortgage books too means that qualified buyers are finding it easier to obtain home loans, something that has driven strong first time buying."
Sectional title market
The buoyancy in the sectional title market in the high density urban areas has seen developers coming back into the market while the high rental demand and recovery in tourism, has boosted the buy-to-let market.
"Pre-2013, buyers were holding back, waiting and watching house prices. By early last year, prices had settled and, realising that if they were going to buy smart, the time was right, buyer urgency gathered momentum," according to Seeff.
"Not even the 75-basis point interest rate hike has deterred buyers and they continue flocking to show houses in record numbers."
Old stock moving
The renewed commitment to invest in bricks and mortar has seen much of the old stock selling in rapid succession and, added Seeff.
"The tide in the high demand urban areas has turned from an overwhelmingly buyers' market to favourable selling conditions," he said.
The early part of this year saw estate agents faced with a somewhat unexpected challenge – severe stock shortages and a backlog of eager buyers just waiting for the next new listing.
Homes started selling faster and, while the market average is at 12 to 17 weeks, well-priced property now sells within a week of coming onto the market and, sellers are getting close to and, in many instances more than the asking price.
While the sub-R1.5m sector remains the sweet spot, Seeff said that the cheer has spread to the upper segment.
"Our prime areas such as Cape Town's Atlantic Seaboard and Southern Suburbs, Sandton, Pretoria East and the top end suburbs of Durban, all report a significant uptick in sales and resultant stock shortages in the R5m-plus sector," he said.
More R20m-plus trophy homes have sold this year. In the Cape metro alone, about 39 sales worth just under R1.2bn compared to just 25 sales at about R712m during the same period last year has been recorded.
This includes four of the highest prices, three Atlantic Seaboard sales at R55.86m, R64.8m and R70m and a Bishopscourt sale of R30.2m, all concluded by Seeff.
Sandton too, has seen excellent pick up in the R10m-plus sector with a good few sales above the R20m price mark including the recent sale of two luxury homes in Bryanston by Seeff for R30m each, according to Seeff.
Coastal leisure market
"As usual, the last to join the property party, the secondary coastal leisure markets are not too far behind. Here too a resurgence in demand has seen much of the old stock now selling, creating more favourable conditions for sellers," said Seeff.
Land sales too are up in the primary urban areas and much of the discounted land stock in the coastal areas is now selling.
Foreign buyers
Aside from local buyers driving demand, foreign residents and visitors from the UK, Europe and increasingly from sub-Saharan Africa and the Middle and Eastern markets are capitalising on the weak rand and investing more in local property.
While the average national house price growth of around 8% is keeping pace with inflation, Seeff said that it will remain curtailed by the rising costs of basic utilities such as electricity.
This aside, there are encouraging signs within the high demand areas, especially the sectional title market and security estates that is seeing strong double-digit growth upwards of 12% and over 20% in some areas.
"Interestingly, these levels are reminiscent of the early 2000s, just before the boom kicked in and better than in 2010," said Seeff.
He also expects that the slow rate of new stock coming into the market, largely as would-be sellers are more confident about holding on to their property, will further boost prices into the new year.
While the 2015 landscape will no doubt be dominated by lacklustre economic and job growth and rising costs including potential tax and interest rate hikes, Seeff believes that, contrary to the reservations expressed by some market commentators, the uptick in the housing market will be sustained into next year.
"There is still significant appetite to buy and this is likely to keep sellers in the driving seat into the new year. An improvement in the economy will just serve as a further boost for the market," he said.
Source: http://www.fin24.com/Money/Property/Property-market-has-something-to-cheer-about-20141121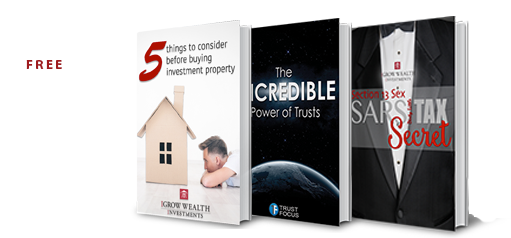 Discover how to build your wealth with property investment Get free training videos & resources on the secrets of property investment in South Africa. Fill out the form below to gain instant access to our training resources.